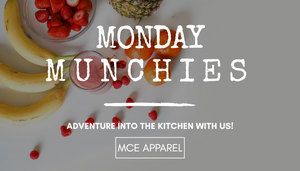 Starting our Mornings off South of the Border
One of our favorite meals of the day is breakfast. In all honest we eat Breakfast meals for Breakfast, Lunch and Dinner. You just cant go wrong with it in our eyes. One of my personal favorites is a good ole Breakfast Burrito. These easy to make and easy burritos are perfect for those who like to meal prep or who have an army to feed.
The recipe below is from the Shawn Syphus at Pillsbury.
Time to Make: 35 Minutes | Servings: 8
Ingredients
3 tablespoons vegetable oil
4 cups (12 oz) frozen shredded hash brown potatoes (from 30-oz bag)
8 eggs
1 can (4.5 oz) Old El Paso™ chopped green chiles
1/2 teaspoon salt
1/2 teaspoon pepper
6 fully cooked breakfast sausage links, cut in 1/4-inch pieces
1 package (11 oz) Old El Paso™ flour tortillas for burritos (8 tortillas)
2 cups shredded Mexican cheese blend (8 oz)
Instructions
In 12-inch nonstick skillet, heat 2 tablespoons of the oil over medium-high heat. Add frozen hash brown potatoes in even layer; press down lightly. Cook potatoes 7 minutes without moving. Drizzle with remaining 1 tablespoon oil; turn. Cook 6 to 8 minutes longer or until browned on both sides and hot throughout. Transfer to medium bowl; cover with foil to keep warm. Wipe out skillet.

In large bowl, beat eggs, green chiles, salt and pepper until well blended. In same skillet over medium-high heat, cook sausage 2 to 3 minutes, stirring frequently, until browned. Stir in egg mixture; cook 2 to 3 minutes, stirring occasionally, until scrambled.

To assemble burritos, spoon line of hash browns down center of each tortilla. Top with cheese and egg mixture.

Roll up each tortilla tightly to secure filling. Serve immediately, or freeze as directed below.

To freeze, wrap each burrito in foil. Label 1-gallon resealable freezer plastic bag. Transfer burritos in single layer to bag; remove as much air as possible, and freeze up to 1 month. To heat: Remove 1 burrito from foil, and wrap in lightly dampened paper towel. Place on microwavable plate; microwave uncovered on High 2 minutes 30 seconds to 4 minutes 30 seconds, turning once, until heated through (at least 165°F).
---