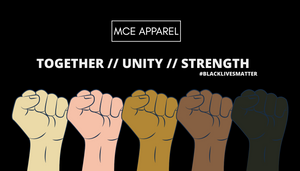 Fighting the Good Fight
With so much anger, hurt, sadness and pain being felt from years of systematic racism and hate, remaining silent was no longer an option. Remaining silent is being complacent and we can no longer accept complacency as a means of response. Our silence, and more specifically my own has been met with many different reactions. From shock to anger.
As a man of color, and further a gay man, hate has been something that I have crossed paths with many times. As the Black Lives Matter movement started I remained silent because I felt that I had everything going good for me so why should I get involved. Over time I have come to realize I was part of the problem by remaining silent.
Today, I end my silence on the topic and say to those protesting, those signing the petitions, those having their voices heard, I stand with you. I hear you and I am in this fight with you. Holly and I have decided that we will be donating a portion of all sales to multiple organizations supporting the Black Lives Matter movement, because together we want change. 
We are no longer going to sit by idly waiting for change to happen. We are joining the fight. If you are unable to make a purchase or unable to donate follow the links below to fill out petitions. If you can't fill out petitions, send emails. If you can't send emails, educate your friends and family. Together we will overcome hate and racism. 
Hate has no home here. Racism has no home here. Homophobia has no home here. 
We live, love and laugh together in this family. 
With Love,
Guy Maughan, Part of the MCE Family
Here is where we plan to donate and we encourage you to donate to them as well.
Black Lives Matter Seattle-King County is a grassroots, volunteer-run, social-justice nonprofit organization focused on the empowerment and liberation of Blacks and other people of color through advocacy and direct action. BLM Seattle centers leadership on Black femmes, women, and queer people organizing and taking direct action to dismantle anti-black systems and policies of oppression.
Not This Time works with a large and diverse coalition of Native Tribes, Black Churches, Asian Pacific Islander groups, Latino Organizations, and people with disabilities to reform policing in Washington State. It has garnered the support of U.S. Senator Patty Murray, U.S. Congressman Adam Smith, and many others working to create more just laws in Seattle, King County, and Washington State. Organizational allies include the Seattle Community Police Commission, the Black Law Enforcement Association of Washington, the King County Office of Law Enforcement Oversight, and the Washington Joint Task Force on the Deadly Use of Force in Community Policing.
Sign the Petition
If money is tight sign this petition. Justice For George Floyd Petition
---