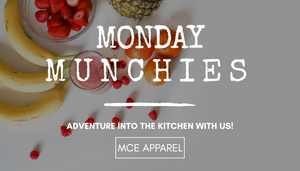 A Cold Day Classic!
If you know Holly, you know she L O V E S a crockpot meal. She preps it in the morning and goes about her daily chores and errands. The family loves coming home to the sweet aroma of a slow cooked meal. Today we are showcasing a recipe for Slow Cooker Chicken Noodle Soup!
This recipe is from the Food Network.
Time to Make: 8 Hours 20 Minutes | Prep Time 25 Minutes | Serves: 6-8
Ingredients
8 ounces carrots, sliced 1/4 inch thick (about 3 large carrots)
6 ounces celery, sliced 1/4 inch thick (about 5 large stalks)
1/4 small onion, peeled and root end intact 
2 large sprigs parsley, plus 1/4 cup chopped leave
2 large sprigs thyme
1 bay leaf
Kosher salt
2 pounds bone-in, skin-on chicken thighs (about 6 thighs)
8 cups low-sodium chicken broth
6 ounces wide egg noodles (about 4 cups)
1 to 2 tablespoons freshly squeezed lemon juice
Freshly ground black pepper
Instructions
Toss the carrots and celery together in the slow cooker. Add the onion, sprigs parsley, thyme, bay leaf and 1 teaspoon salt.

Rub the chicken thighs all over, including under the skin, with 1 teaspoon salt total, and put them on top of the vegetables. Add the chicken broth. Cover, and cook on low for 8 hours. During the last 15 minutes of cooking, remove the chicken and stir in the noodles.

While the noodles cook, remove and discard the chicken skin and bones and shred the chicken-it will mostly fall apart on its own. When the noodles are done, turn off the cooker, remove the parsley and thyme stems, and add the shredded chicken and 1 tablespoon lemon juice. Taste, and add more lemon juice and salt as needed. Stir in a good amount of pepper and the chopped parsley, and serve hot.
---